All on 4 Dental Implants Complications?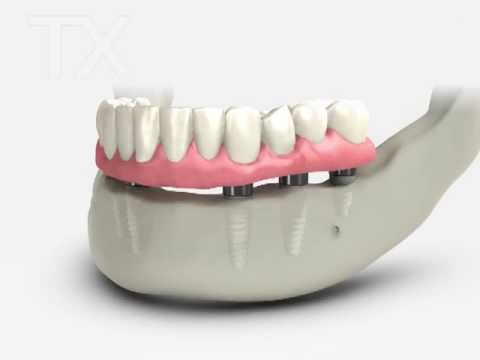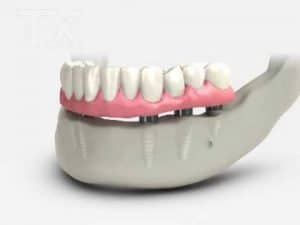 How are the reviews for All on 4? Generally most people are very happy with all on 4 implant teeth and the reviews are pretty good. Especially people who have suffered with ill fitting dentures and who have upgraded to permanent implant teeth and full mouth implant options. There are some concerns about implant failures and all on 4 problems that should be considered. Additionally, there are many different kinds of all on four implant teeth. If you are considering replacing your teeth with implants you should read this article to better educate yourself. Some teeth are made of smooth natural textured zirconia and other teeth are made of plastic. Educate yourself on these options to avoid future All on 4 problems and costly repairs and remakes.
What is All on 4 Implants?
All on 4 Implant procedure by definition is removal of all your natural teeth and complete replacement of an upper or lower set of teeth with a complete permanent implant bridge supported by 4 or more dental implants. All on 4 complications and problems do happen. Not every all on 4 case goes perfectly and as planned. Also not every implant dentist is created equal. Some dentists are more skilled and capable of performing better full mouth implant cases. Full mouth implant dentistry is much more complex than replacing one tooth with a dental implant. Most dentists cannot perform this level of full implant surgery. The skill of fitting the implant teeth on top is equally, if not more difficult than surgically placing the implant roots. Full mouth all on 4 implants is best done by one dentist who has advanced training in full implant surgery and full mouth implant reconstruction. This is termed a "dental implant center." Most dental implant centers feature a team of dentists.
You should also educate yourself on the different All on 4 dental implant teeth options -zirconia prettau vs bruxzir and hybridge. And also whether or not All on 4 can be completed in one day?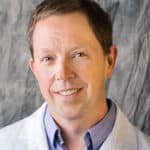 Dr. Gary Adams has done thousands of implant procedures including all on 4 and other full mouth implant reconstruction. He is trained in implant surgery and full mouth implant prosthetics.  Dr Adams is a consultant, speaker and instructor for Zeramex, the world leader in manufacturing metal free implants. Dr. Adams maintains a small specialty implant center where he does full mouth implants, sedation and TMJ pain treatment in the Washington, DC metro area. Dr Adams splits his time as a speaker and seeing patients who need implants. Dr Adams sees patients mostly from all around DC, Maryland and Virginia, but some people travel from across the USA and from abroad. One of Dr. Adams most popular services is DNA appliance therapy for sleep apnea and TMJ. Dr Adams approaches implant dentistry as a natural and holistic dentist, using PRF treatments for implants and bone grafts. The use of different types of PRF preparations improves bone healing around implants, shortens implant recovery time, decreases pain and swelling after implant surgery.
Call today for an implant consultation
All on 4 Implant Review Video:
Dr Adams vs Clear Choice Implants
We are not a national chain or franchise like Clear Choice. Dr Adams provides individual attention to each and every implant case
Dr Adams handles the entire case involving implant surgery and fitting of the implant teeth. With one doctor doing the entire case there will never be a miscommunication.
We use many natural and holistic dental products such as platelet rich fibrin and oxygen and ozone therapy to promote bone growth and healing.
Dr. Adams will consider all implant options not just All on 4. Dr Adams also does gum treatments, fillings, conventional dentures and a full range of dental services. Dr. Adams will never try to talk you into taking out all your teeth when there is a better option. We will present all options you have to fix your teeth.
We will file your insurance and get your benefits
We will clean and maintain your case after it is complete
Dr. Adams will give you the option to have non-metal zirconia implants or conventional titanium.
All on 4 Implant Bridge failure – if one implant goes bad what happens?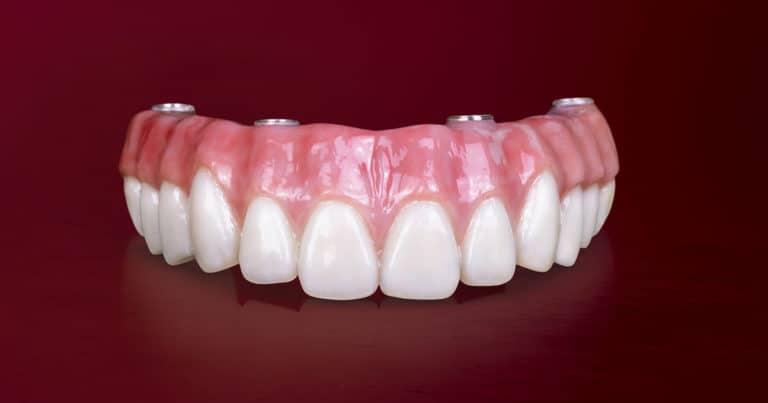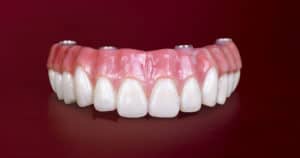 All on 4 dental implant reviews have generally been good, but there are some concerns about All on 4 that need to be considered prior to removing and replacing all your teeth with a full mouth implant bridge.
All on 4 Procedure Pros and Cons:
If one of the All on four implants fails after the teeth have been made, the entire All on 4 implants will need to be remade. The bridge will need to be remade because 4 implants is the bare minimum needed to support a full set of upper or lower implant teeth. Additionally, it is impossible to replace a dental implant by doing an after the fact surgery and have the implant heal in the same position as the lost implant. Since the implant position is different, the All on 4 implant bridge will no long connect precisely in the same way as before. This will cause a major problem because the All on 4 implant bridge is very expensive to remake and it will take several visits to re-make. The failed implant will also take a period of months to be replaced and heal also. The loss could take 5-12 months to fix. While All on 4 dental implants complications do occur, if the case is done by a qualified dental implant expert, most cases turn out very nice and meet the expectation of the patient.
Why All on Four Implants Needs 5 to 6 dental implants and not just 4
The best way to avoid this kind of All on 4 problem is to place 5-6 implants for a full mouth implant bridge. If 5-6 implants are placed, an implant failure may not be a problem or cause the entire case to fail. For the implant dentist, patients can get very frustrated with this kind of failure. Patients can do anything from writing online negative reviews about All on 4 Dental Implants to filing law suits for suspected malpractice. Where there is a doctor with a wallet, there is the threat of a lawsuit. 1 or 2 extra dental implants in this situation becomes an inexpensive insurance policy of sorts against complete All on 4 failure. All on 4 cases have failed if not enough implants are placed, but the reviews have been great when 5 or 6 implants are used and the case is done by a qualified implant expert.
In general, if an all on 4 case is done by a qualified implant specialist, the case usually turns out great. All on 4 implant reviews are good but as stated complications do arise. All on four cases should be planned with the most likely failure in mind and a plan in place if there is an all on 4 implant complication.
All on 4 teeth can fracture and break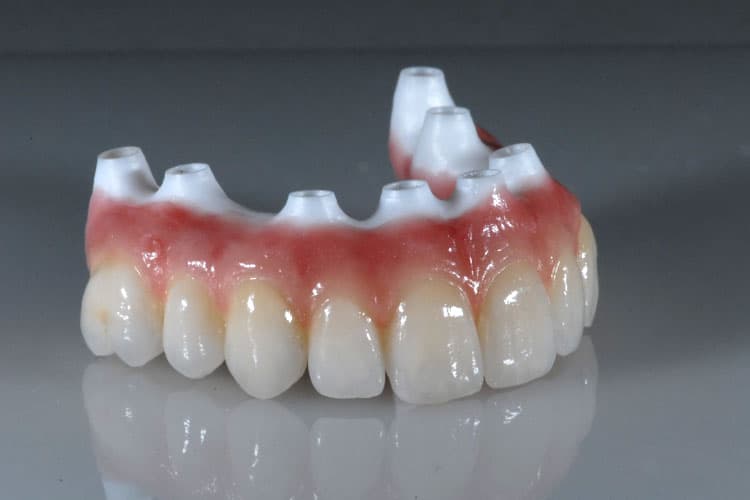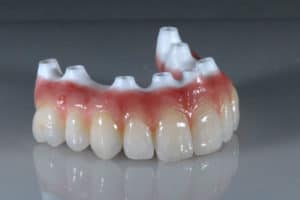 This rarely happens  if the all on 4 teeth are made of an up to date material like zirconia. This was a major problem with older hybridge or hybrid all on 4 implant teeth made of plastic acrylic. Zirconia materials  such as Bruxzir and Prettau are strong and rarely break. All on 4 dental implant complications including bridge breakage can happen but most of the time only with older acrylic hybrid denture models.
A Tooth Can Fall off the All on 4.
All on 4 Implant Techniques – Bridges are made in one of two different ways:
Titanium with acrylic teeth and gums cured on top of the titanium substructure. This design is the classic design called a hybrid denture and one laboratory calls their version – Hybridge Denture or Hybridge Implant Bridge. It is basically a denture made on top of a piece of titanium that screws onto the implants permanently. The design is very permanent and stable. One problem with this design teeth can separate from the titanium framework. The All on 4 bridge can be repaired by sending it back to the lab for repair. The repairs are typically inexpensive but the repair can take days and leave the patient without any teeth for a few days.
The second design and the newer and better option is a full mouth solid zirconia bridge. In this design the bridge and teeth are one solid piece made by a 3D design and printer. This kind of full mouth implant bridge is called a Prettau Bridge. Another competing technology is called Bruxzir. The product is one solid zirconia milling and has superior looks and strength. Very rarely do these full mouth zirconia implant all on 4 teeth break. This later design is typically a little more expensive. Both are more expensive than implant dentures – the least expensive full mouth implant option.
Cost of All on Four? How much is All on 4?
Depending on the region of the country, the quality of dental implants and the all on 4 bridge material used ( Prettau vs Hybrid Denture ), The Cost of All on 4 can range from $40,000 – $60,000. If you are quoted a cost lower than $40,000 you are either in Mexico or using an implant and materials you do not want in your mouth. All on 4 dental implants complications can be minimized if the case is done by a dentist with a lot of full mouth dental implant experience.
Consider all on 4 price, the cases are usually very worth the investment. Generally, all on 4 implant reviews are excellent if the case is done by a qualified dental implant expert. But remember All on four complications can happen and cases should be planned with potential points of problems in mind. For example if the patient clenches you may want to add an additional implant to help carry heavier biting forces. And if there is weaker bone, extra grafting of bone may be considered to strengthen weaker implants.
The high cost of full implant cases can be difficult to afford, but when multiple teeth are hurting and your smile is suffering, the cost may begin to seem like the easy way out. When faced with expensive treatment on natural teeth such as several root canal retreatments removing failing root canals and replacing your teeth with a durable long-lasting full implant case seems like a great idea. What happens if you do not get a root canal? Is a dental implant an alternative to a root canal?
All on 4 Video: