What can go wrong with All on 4 Implants? All on Four Negative Reviews:
All on 4 Implant Procedure by definition is removal of all your natural teeth and complete replacement of an upper or lower set of teeth with a complete permanent implant bridge supported by 4 or more dental implants.
What if one of the implants in the All on 4 Implant Bridge Fails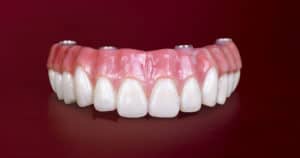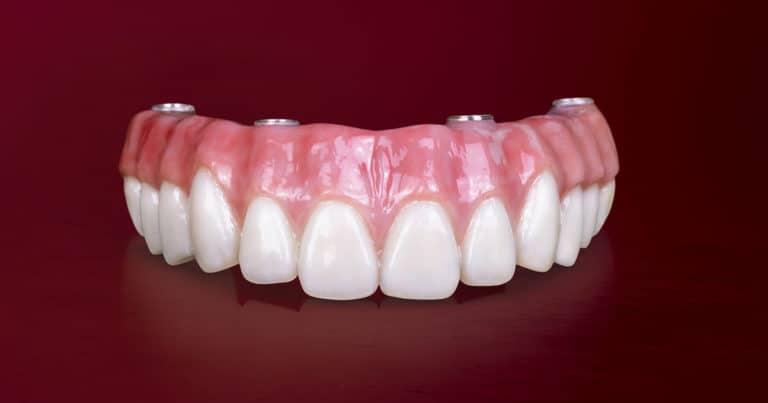 All on 4 dental implant reviews have generally been good, but there are some concerns about All on 4 that need to be considered prior to removing and replacing all your teeth with a full mouth implant bridge.
All on 4 Procedure Cons:
If one of the All on four implants fails after the teeth have been made, the entire All on 4 implants will need to be remade. The bridge will need to be remade because 4 implants is the bare minimum needed to support a full set of upper or lower implant teeth. Additionally, it is impossible to replace a dental implant by doing an after the fact surgery and have the implant heal in the same position as the lost implant. Since the implant position is different, the All on 4 implant bridge will no long connect precisely in the same way as before. This will cause a major problem because the All on 4 implant bridge is very expensive to remake and it will take several visits to re-make. The failed implant will also take a period of months to be replaced and heal also. The loss could take 5-12 months to fix.
The best way to avoid this kind of All on 4 problem is to place 5-6 implants for a full mouth bridge. If 5-6 implants are placed, an implant failure may not be a problem or cause the entire case to fail. For the implant dentist, patients can get very frustrated with this kind of failure. Patients can do anything from writing online negative reviews about All on 4 Dental Implants to filing law suits for suspected malpractice. Where there is a doctor with a wallet, there is the threat of a lawsuit. 1 or 2 extra dental implants in this situation becomes an inexpensive insurance policy of sorts against complete All on 4 failure.
This rarely happens because the implant bridge is made either of Titanium or Zirconia. Both materials are strong and rarely break
A Tooth Can Fall off the All on 4.
All on 4 Implant Techniques – Bridges are made in one of two different ways:
Titanium with acrylic teeth and gums cured on top of the titanium substructure. This design is the classic design called a hybrid denture and one laboratory calls their version of a Hybridge Denture or Hybridge Implant Bridge. It is basically a denture made on top of a piece of titanium that screws onto the implants permanently. The design is very permanent and stable. One problem with this design teeth can separate from the titanium framework. The All on 4 bridge can be repaired by sending it back to the lab for repair. The repairs are typically inexpensive but the can take days and leave the patient without any teeth for a few days.
The second design and the newer and better option is a full mouth solid zirconia bridge. In this design the bridge and teeth are one solid piece made by a 3D design and printer. This kind of full mouth implant bridge is called a Prettau Bridge. The product is one solid milling and has superior looks and strength. Very rarely do these full mouth zirconia implant all on 4 teeth break. This later design is typically a little more expensive. Both are more expensive than implant dentures – the least expensive full mouth implant option.
How much is the Cost of All on Four?
Depending on the region of the country, the quality of dental implants and the all on 4 bridge material used ( Prettau vs Hybrid Denture ), The Cost of All on 4 can range from $40,000 – $60,000. If you are quoted a cost lower than $40,000 you are either in Mexico or using an implant and materials you do not want in your mouth.
All on 4 Video: