Common Problems with All on 4 Implants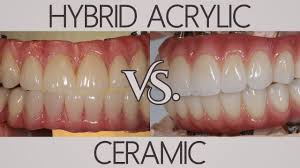 All on 4 reviews are generally good when the case is planned properly and delivered in a professional and skillful way. The common problems with All on 4 are that they are "too thick", "do not feel natural", that they are "one piece…and not individual teeth", "they have no feeling to pressure or temperature." Most of these complaints are just differences between all on 4 and natural teeth. Perhaps having teeth that do not feel temperature and pressure is a good thing. Most people will accept all on 4 as a new normal. And they usually look great and chew food like nobodies business.
All about All on 4 Implants
So you are tired of rotten, missing teeth and high dental bills? And emergency trips to the dentist are getting old? Here is the place to explore the pros and cons of replacing all your teeth problems once and for all with a new set of permanent implant teeth. Reviewing implants is much more complicated than looking at how many stars a service gets. All on 4 dental implant reviews are generally good and it is the most practical solution to permanently replace all teeth.
What is All on 4 Implants?
All on 4 Implant procedure by definition is removal of all your natural teeth and complete replacement with permanent implant teeth supported by 4 or more dental implants. All on 4 complications and problems do happen. Not every all on 4 case goes perfectly and as planned. Also not every implant dentist is created equal. Some dentists are more skilled and capable of performing full mouth dental implant cases. Full mouth implant cases are best done by one dentist who has advanced training in implant surgery and full mouth implant reconstruction. Such a one-stop facility is called a "dental implant center."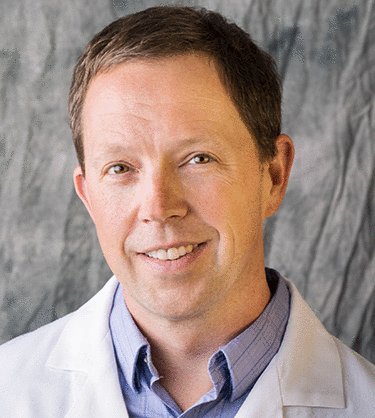 Dr. Gary Adams
Dr. Gary Adams has done thousands of all on four implant procedures. Adams is also licensed in IV sedation dentistry. Usually full mouth implant cases are done under sedation. Dr Adams sees patients mostly from around DC, Maryland and Virginia. But some people travel from across the USA and abroad. Dr Adams offers consultations without fee for new patients including the 3D Xray
Call today for an implant consultation or use our Contact us form
How much does All on 4 cost?
Depending on the region of the country, the quality of dental implants and the all on 4 bridge material used (solid zirconia vs acrylic), the cost of all on 4 can range from $40,000 – $60,000. The fee usually is all-in and includes removing all remaining natural teeth, bone grafting, implants and the teeth. The fee also usually includes a set of temporary teeth and dental sedation. If you are quoted a cost lower than $50,000 you are either in Mexico or using an implant and materials you do not want in your mouth. All on 4 dental implants complications can be minimized if the case is done by a dentist with a lot of full mouth dental implant experience.
There are Several Different Kinds or Full Implant Teeth
All on 4 is the most practical way to replace all your teeth with permanent implants. There are other options to replace a full mouth of teeth with implants you need to explore before making a final decision. Snap in dentures is a much less expensive alternative to all on 4 that many people really enjoy.
Contact Dr. Adams for a complimentary implant consultation or 2nd opinion
Replacing all Teeth with Implants is Confusing
Because there are many different ways to replace all your teeth with implants, it can be confusing. And you cannot take a new set of teeth for a test drive before buying them. The decision is a big one and you need to educate yourself before deciding what to do. It is a large financial investment. You want to be satisfied with the result. Make sure you explore all your options including less expensive removable options like snap on denture teeth.  Many people are quite satisfied with the snap in teeth once they get used to teeth that are removable.
All on 4 Dental Implants Before and After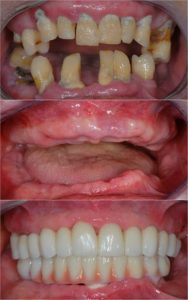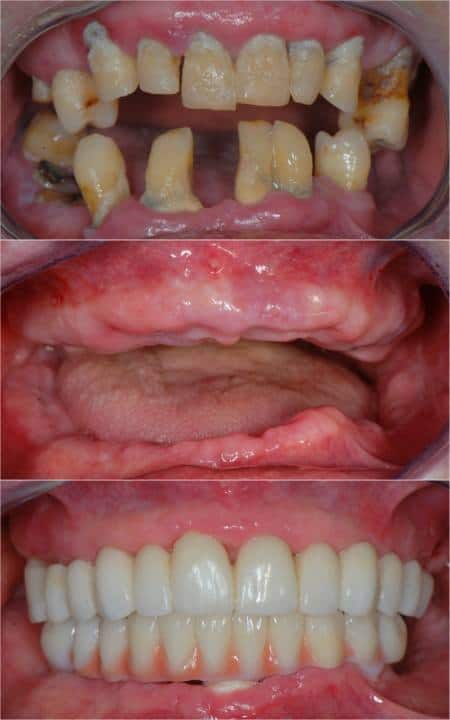 All on 4 dental implant reviews are generally positive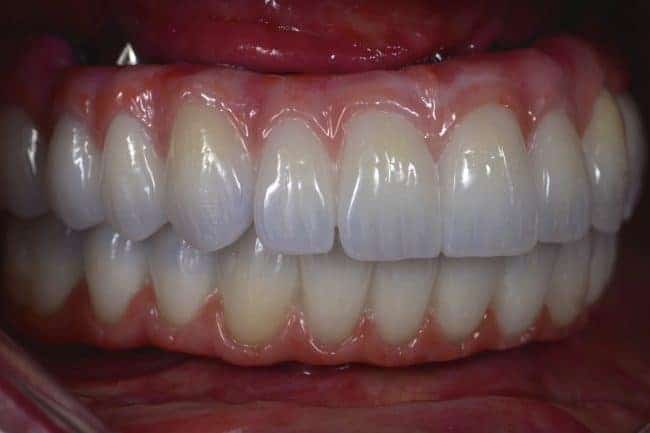 But you need to learn about the different ways to replace teeth with implants before deciding what to do. People who have suffered with poor fitting dentures will be especially happy with full mouth permanent implant options. On the other hand, people who compare all on 4 to a good set of natural teeth may be disappointed. But they may be thrilled. The point is, there are differences between natural teeth vs implants. And huge differences with various fixed implant solutions. You to know what you are getting yourself into of you may have regrets. New Teeth are not like cars. You cannot take them for a test drive.
Differences between natural teeth and all on four implants:
All on 4 is a one-piece set of teeth installed into the mouth. It feels different than natural teeth to the tongue. The teeth are smoother and thicker than natural teeth.
Implant teeth do not have nerves, so the do not feel cold. That is probably a good thing. Implants can apply more pressure without pain than natural teeth. That is probably good until something breaks. This is where getting acrylic plastic teeth vs zirconia is a serious consideration. Get the zirconia upgrade because it does not break.
Cleaning happens with a tooth brush, waterpik and special brushes and floss. Hygiene and maintenance is different.
There are differences but one is not necessarily better than the other. Just know what you are getting yourself into.
How Long do All on 4 Dental Implants Last?
Also, how long will your investment last and what will maintenance costs be like in the future. There are some problems with all on 4 that should be considered. There are many different kinds of all on four teeth that go on top of the implants. If you are considering replacing your teeth, you should read this page completely so you are properly informed.
Some teeth are made of smooth durable zirconia and other teeth are made of plastic. Educate yourself on these options to avoid regrets, costly repairs and remakes.
Upgrade All on 4 Implant Teeth to Ziconia
You should also educate yourself on the different kinds of teeth used for All on 4. Long story short, only accept zirconia teeth. And do not do traditional acrylic teeth. Also even though we call it "all on 4," it is much better to use 5 or 6 implants per full set of teeth. It is stronger and 4 is the bare minimum. And do yourself a favor and do not go anywhere where they claim to be able to totally finish your case in one day. At least not until you read this article: Why All on 4 should not be completed in one day?
Clear Choice Dental Implants Comparison
We are not a national chain or franchise like Clear Choice. Dr Adams provides individual attention to each and every implant case
Dr Adams handles the entire case involving implant surgery and fitting of the implant teeth. With one doctor doing the entire case there will never be a miscommunication.
We use many natural and holistic dental products such as platelet rich fibrin and oxygen and ozone therapy to promote bone growth and healing.
Dr. Adams will consider all implant options not just All on 4. Dr Adams also does gum treatments, fillings, conventional dentures and a full range of dental services. Dr. Adams will never try to talk you into taking out all your teeth when there is a better option. We will present all options you have to fix your teeth.
We will file your insurance and get your benefits.
A Holistic approach to Implant Dentistry
Dr Adams approaches implant dentistry with a holistic approach.  One difference is using PRF treatments and dental ozone and oxygen therapies. The use of different types of PRF preparations improves bone healing around implants, shortens implant recovery time, decreases pain and swelling after implant surgery.
Most Common All on 4 Implant Problems and Failures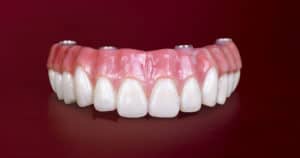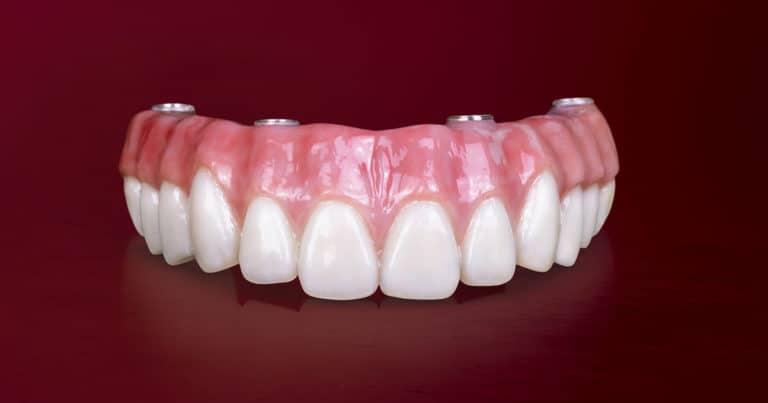 All on 4 dental implant reviews have generally been good, but there are some concerns about All on 4 that need to be considered prior to removing and replacing all your teeth with a full mouth implant bridge.
Advantages and Disadvantages of All on 4:
If one of the four implants fails after the teeth have been made, the entire All on 4 implants will need to be remade. The bridge will need to be remade because 4 implants is the bare minimum needed to support a full set of upper or lower implant teeth. Additionally, it is impossible to replace a dental implant by doing an after the fact surgery and have the implant heal in the same position as the lost implant. Since the implant position is different, the All on 4 implant bridge will no long connect precisely in the same way as before. This will cause a major problem because the All on 4 implant bridge is very expensive to remake and it will take several visits to re-make. The failed implant will also take a period of months to be replaced and heal also. The loss could take 5-12 months to fix. While All on 4 dental implants complications do occur, if the case is done by a qualified dental implant expert, most cases turn out very nice and meet the expectation of the patient.
How Many Implants are Needed for All on Four?
The best way to avoid this kind of All on 4 problem is to place 5-6 implants for a full mouth implant bridge. If 5-6 implants are placed, an implant failure may not be a problem or cause the entire case to fail. For the implant dentist, patients can get very frustrated with this kind of failure. Patients can do anything from writing online negative reviews about All on 4 Dental Implants to filing law suits for suspected malpractice. Where there is a doctor with a wallet, there is the threat of a lawsuit. 1 or 2 extra dental implants in this situation becomes an inexpensive insurance policy of sorts against complete All on 4 failure. All on 4 cases have failed if not enough implants are placed, but the reviews have been great when 5 or 6 implants are used and the case is done by a qualified implant expert.
In general, if an all on 4 case is done by a qualified implant specialist, the case usually turns out great. All on 4 implant reviews are good but as stated complications do arise. All on four cases should be planned with the most likely failure in mind and a plan in place if there is an all on 4 implant complication.
All on 4 teeth can fracture and break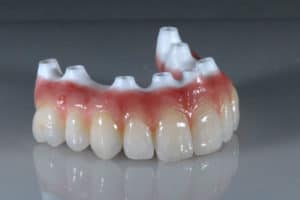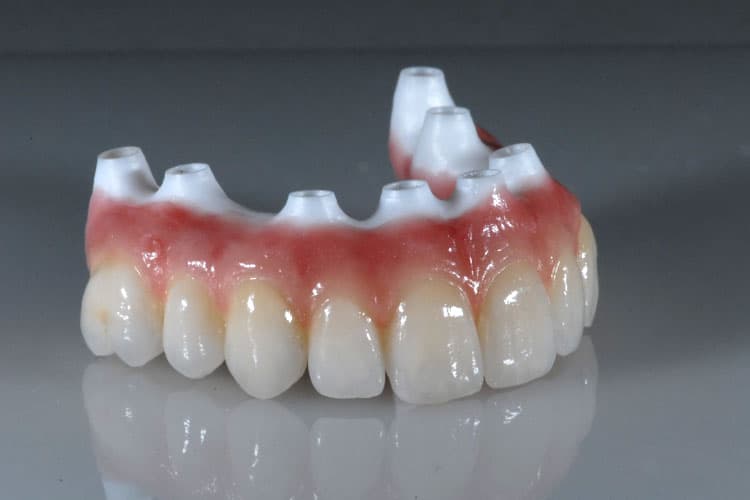 This rarely happens  if the all on 4 teeth are made of an up to date material like zirconia. This was a major problem with older hybridge or hybrid all on 4 implant teeth made of plastic acrylic. Zirconia materials  such as Bruxzir and Prettau are strong and rarely break. All on 4 dental implant complications including bridge breakage can happen but most of the time only with older acrylic hybrid denture models.
All on 4 Teeth Manufacturing Techniques
Acrylic teeth and gums supported by titanium substructure
This design is the classic design called a hybrid denture and one laboratory calls their version – Hybridge Denture or Hybridge Implant Bridge. It is basically a denture made on top of a piece of titanium that screws onto the implants permanently. The design is very permanent and stable. One problem with this design teeth can separate from the titanium framework. The All on 4 bridge can be repaired by sending it back to the lab for repair. The repairs are typically inexpensive but the repair can take days and leave the patient without any teeth for a few days.
Full Solid Zirconia All on 4 Implant Teeth
In this design the bridge and teeth are one solid piece made by a 3D design and printer. This kind of full mouth implant bridge is called a Prettau Bridge. Another competing technology is called Bruxzir. The product is one solid zirconia milling and has superior looks and strength. Very rarely do these full mouth zirconia implant all on 4 teeth break. This later design is typically a little more expensive. Both are more expensive than implant dentures – the least expensive full mouth implant option.
Why implants are worth the long-term investment
Implants do not get cavities or ever need root canals. They are beautiful since an entire mouth of teeth is designed and manufactured from the ground up. Implants can exert more force than natural teeth. All on 4 teeth usually out last natural teeth and are much less prone to problems.
Full Implant Cases Need to be designed for strength and long-term durability
Consider all on 4 price, the cases are usually very worth the investment. Generally, all on 4 implant reviews are excellent if the case is done by a qualified dental implant expert. But remember All on four complications can happen and cases should be planned with potential points of problems in mind. For example if the patient clenches you may want to add an additional implant to help carry heavier biting forces. And if there is weaker bone, extra grafting of bone may be considered to strengthen weaker implants.
Making All on 4 Dental Implants Affordable
The high cost of full implant cases can be difficult to afford, but when multiple teeth are hurting and your smile is suffering, the cost may begin to seem like the easy way out. We offer dental implant financing through Lending Club and Care Credit patient financing. When faced with expensive treatment on natural teeth such as several root canal re-treatments removing failing root canals and replacing your teeth with a durable long-lasting full implant case seems like a great idea. What happens if you do not get a root canal? Is a dental implant an alternative to a root canal?
All on 4 Video: