Dental Implant Tooth Bridges
Dental implant bridges replace multiple teeth. One to eight dental implants can be used to support 2-14 bridged teeth.  Depending on how many teeth need to be replaced, enough implants need to be installed to support the teeth being replaced.Generally 2 implants can replace 3-4 teeth. And 4-6 implants can replace a full upper or lower set of teeth. This is called full mouth dental implants and All on 4.
Different Implant Bridge Designs
Simple implant bridges usually replace a span of 3-4 teeth with implants put into the jaw at the far ends of a missing teeth space. Then a 3-4 tooth bridge is connected to the implants. Other designs include cantilever and front teeth implant bridges. There are countless options.
What is a Dental Implant Bridge video
Dr. Gary Adams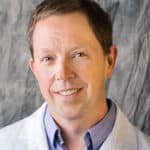 Dr. Adams has successfully placed thousands of implants. Dr. Adams can handle cases involving one and even a full mouth of implants. Dr. Adams performs his own implant surgery and fits and places all his own implant teeth. "I very much enjoy seeing my patient's implant cases from start to finish"
Contact us for a complimentary Consultation including 3D Xray
3-4 Teeth Implant Bridge: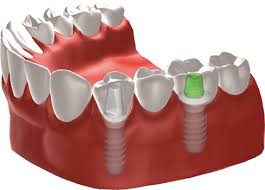 As in the picture, it is best for the implant expert to place two implants on either side of the missing teeth space. The implants can alternatively be place next to one another but, this leaves one side of the implant bridge unsupported. A bridge with an unsupported area is called a cantilever. It is sometimes an option to place 3 implants and do 3 individual implant supported crowns. This option will be more expensive, but will also seem more natural and be easier to clean.
Cantilever Implant Bridges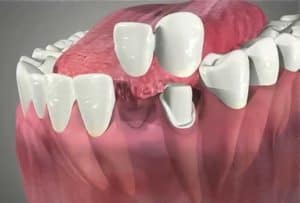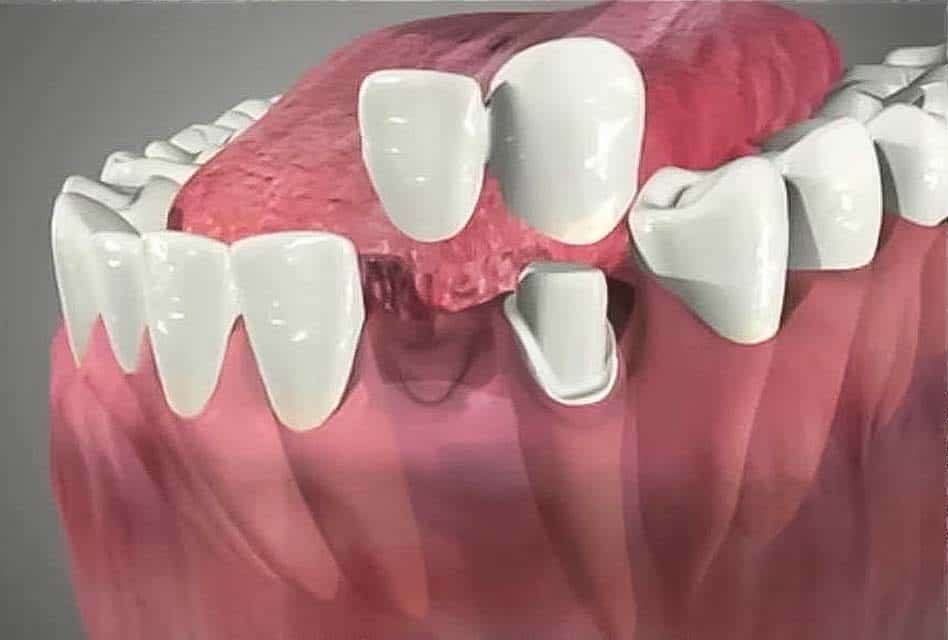 Cantilever implant bridges are acceptable, so long as the unsupported length is less than 1/2 the overall length of the supported part of the implant prosthetic. Once implants have healed, the bridge teeth can be installed. Bridges cost less than individual implants since it requires fewer implants. A cantilever implant bridge may be necessary when there is not enough room to physically place multiple implants. There needs to be at least 1mm of bone in between implants.
It is better to do individual implants and individual crowns. Proper root structure preserves gum and bone. Individual teeth look more natural and are easier to clean as well. A cantilever bridge costs less money and many people may opt for the bridge since it requires fewer implants.
Dental Implant Bridge Cost
The cost of a dental implant bridge depends on how many teeth the bridge is replacing. The most common implant bridge is a 3-4 tooth implant bridge. The cost of this simple implant bridge is $10,000 – $15,000. The fee includes removing any teeth, 2 dental implants and the 3-4 tooth bridge. Sometimes dental implant cost can be elevated by the need for extensive bone grafting and IV sedation (if that is necessary).
PRF Dental Implant Bone Graft Techniques
New platelet rich fibrin or prf dental techniques help with gum and bone healing around implants. The implant in the case of a cantilever bridge should be placed into the area allowing the larger implant. Usually it is the site where the larger tooth used to be. Cosmetic considerations need to be considered as well. One implant site may lead to a more attractive result than the other.
Cantilever Implant Bridges:
The tooth implant expert first places one implant root into the gum and bone. After the healing period, a single custom abutment and a 2 tooth cantilever implant bridge is placed to replace both teeth. Cantilever implant bridges are common when permanently replacing two small lower front teeth and sometimes two upper incisors.
Front Teeth Implant Bridge

A picture is worth a thousand words. Two implants, followed by a healing period, 2 abutments and a 4 tooth implant bridge. Zirconia implants often called the cosmetic dental implant is ideal for teeth in the front of the mouth because they are tooth colored and metal free.
How to Replace a Full Set of Teeth with Implants?
4-6 implants can permanently replace a full upper of lower set of teeth. This is where it gets very expensive and complicated. See Full mouth of Dental Implants.
Teeth Implant Bridges are permanently installed in the mouth and are a more acceptable option for most people over removable Dentures with Implants.
Implant Bridges vs Traditional Dental Bridges: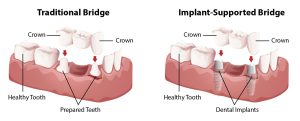 The most popular implant bridges are 3 and 4 teeth bridges that contain 2 dental Implants and support spans of 3 or 4 implant teeth.  Dental implant bridges look like teeth, function like teeth and typically last a lifetime. Implant bridges do not get cavities, need root canals or get decay.  Since implants do not decay, implant bridges have a huge advantage over natural tooth bridges since bridged teeth are more difficult to clean than individual teeth and they often fail due to cavities and decay. For more information read dental implant vs bridge.
Advantages of Implant Bridges
Permanent tooth replacement that stay in the mouth
Implants do not decay like natural teeth bridges and crowns
Easy to clean with floss, water picks and tooth brushes
Implants never have nerve problems or need root canals
Implants are much less likely to break than natural teeth
Implants can exert as much or more chewing force than natural teeth
Implants never experience sensitivity to hot or cold.
Dental Implant Bridge Before and After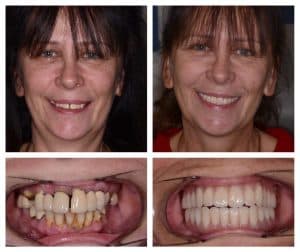 This is a before and after picture of upper a lower complete dental implant bridges.
Who is a Dental Implant Bridge Candidate
Really anyone who can get implants and has a need to replace multiple teeth. Anyone who does not have an unstable disease such as diabetes or bone disease can get dental implants.