What are Snap-On Denture Teeth?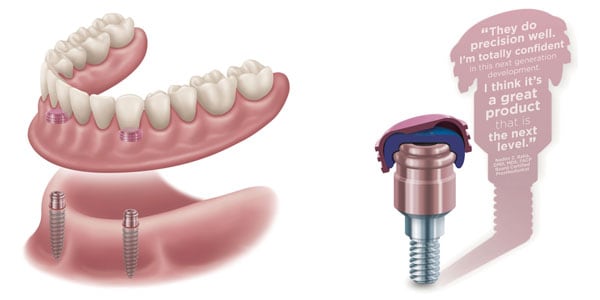 Snap on teeth are specially made dentures that snap very tightly down onto the gums. The snap-on system consists of a male and female attachment that come together when the denture is literally snapped into the mouth. The male sits on top of the implant and the female is built into the denture teeth. The system avoids the use of messy denture glue. Snap-on attachments can convert poor-fitting dentures into teeth that can bite into an apples and corn on the cob. Where most dentures can slide and dislodge, Snap-in holds the teeth firmly in place to prevent an embarrassing moment. Most people missing teeth find value and think snap-on dentures are worth the extra expense.
Contact us today for a no cost consultation
Snap On Dentures Procedure Animation Video
Snap-On Male/Female Connection
Snap on dentures is an attachment system manufactured by Zest Anchors.  Snap-on consists of a male and a female pair that snap dentures firmly down onto the gums. The male is also called a locator abutment and is gold in color. The female is a dish-shaped piece that houses a plastic insert. The female lives in the under side of the denture. The male lives permanently in the mouth on top of the implant. The attachment system enables the denture to "snap" into place when the male and female engage firmly as the denture implant is put in the mouth.
Snap-on Denture Attachment Video
The Snap On system has different strength inserts
The snap on system includes different female inserts. The strength of the snap can be varied depending on the color insert used. In the picture, the gold piece is the male abutment, the blue and red pieces are the plastic inserts. And the metal piece houses the plastic insert as the female side.
Snap On Stabilizes Loose Dentures
If you are tired of loose dentures the snap-in attachment system is for you.  How about the best of both worlds with dentures and implants? Trash-can the Fixodent denture glue. End teeth that slip and fall out during eating and talking forever. Snap-in is the most inexpensive way to replace all your teeth with implants. Denture implants will improve your health with snaps that have 150% more chewing power than traditional false teeth. Proper chewing ensures proper nutrition when eating. Swallowing food that is not chewed leads to constipation and indigestion.