Cost of Full Mouth Dental Implants

Full Mouth Dental Implants Cost is approximately $25,000 to $75,000 depending on how the teeth are implanted into the jaws and whether the teeth are made of a plastic or zirconia material. Also some of the full implant teeth are permanent and fixed in the mouth (not removable). And other dental implants are removable and need to come in and out of the mouth to be cleaned. The cost of full dental implants is variable and confusing because there are so many different types of full mouth dental implant designs. The average cost of dental implants that are permanent are much more expensive than removable implants. Some full implants are made out of acrylic plastic while others are made of ceramic or zirconia. The average cost of full mouth dental implants vary a lot based on the teeth and implant materials. The zip code of the dental implant center makes a difference too. The usual and customary cost of implants in Manhattan, NY is more expensive than in Burtonsville, MD.
How much do dental implants cost?
How much dental implants costs depends on the type of teeth. Permanent implants for the entire mouth usually cost around 50K compared to removable snap-on teeth that cost 35K. This page is about what it will cost to replace all your natural teeth with implants. And what you will get for your money. Or it can be a full lower or upper set of implants where only half the teeth are getting implanted. It is called "full mouth" because you are giving up on your natural teeth and getting a full set of implant teeth instead. A full set of implants is often called "all on 4" because it is possible to secure a complete set of teeth on as few as 4 implants. Using 5 or 6 is a great insurance policy and a much better idea. Replacing all your teeth with implant retained snap on dentures is also a viable full mouth implant solution.
Replacing Natural Teeth with Implants can save Money
Implants have many advantages over natural teeth. Implants do not get decay and cavities. Implants never need root canals. Implants are stronger than natural teeth and usually last longer. Replacing teeth with permanent implants can save money on future dental needs. Especially for people who get a lot of cavities and need a lot of root canals since implants do not decay.
Clear Choice Permanent Teeth Implants
Permanent implants never come out of the mouth. Clear Choice dental implant center and Nobel Biocare have popularized replacing a full set of teeth with 4-6 implants and a fixed set of implant teeth. The implant teeth are made of a plastic-like material called acrylic or a porcelain-like material called zirconia. The acrylic teeth stain, discolor and break in a period of 1-3 years. Get the zirconia teeth. Zirconia teeth have a lifetime warranty and rarely wear out or break. Full mouth implants cost 45-55K in our office including sedation from beginning to end for full permanent implants with zirconia. We do not cut corners with generic implants. Permanent implants with zirconia teeth cost 50k on the average in the US. Clear Choice Implants is by far the most cost effective and satisfactory service. Especially when the solution is compared to the function of natural teeth.
Meet Dr. Gary Adams
Dr. Adams has completed thousands of full mouth implant cases and also has a second license for IV sedation dentistry. We offer complimentary consultations including a 3D Xray. At the end of your visit you will know about the different kinds of implants, our fees and what to expect. We look forward to meeting you.
Contact us for a free estimate and consultation including 3D x ray.
Full Mouth Implant Center in Maryland
Maryland Dental Implant Center is a one-stop full mouth implant center just like Clear Choice. We are not a national chain. We use proven dental science combined with the newest holistic dentistry techniques such as platelet rich fibrin and bone grafting, and oxygen and ozone therapy. We also file dental insurance and have financing options as low as $200 per month.
We are located in Burtonsville near Silver Spring and Columbia Maryland. We will personally evaluate your case and be with you from beginning to end. You will not need to go to another dental office. We will look at your situation and explain all the different teeth implant options.
Dr. Adams does full arch implant cases every day. He will do your entire case including the oral surgery and fitting the teeth. It is important to have an experienced implant surgeon because problems with implants can occur. We also offer sedation if you who would rather be put to sleep for implants.
Full Mouth Dental Implants Before and After Video
Full Mouth Dental Implants Before and After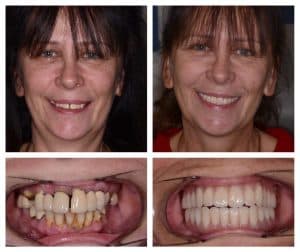 Meet Shelly. The results of her before and after full mouth implant photos speak for themselves. Needless to say, she is very satisfied with her outcome. The reviews for permanent all on 4 style implants are generally good provided proper planning is done and the case is done in a professional manner by a skilled implantologist.
Snap-On Denture Teeth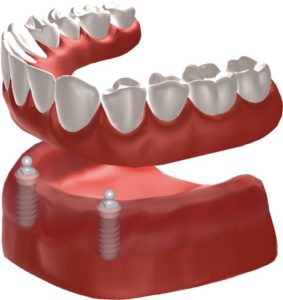 On the other hand, full mouth snap-on dentures need to be removed for cleaning and are called "removable." Snap-on is basically a denture that uses implants to hold it in place. Snap-on costs 25-35K for the entire mouth including removing all teeth, gum and bone grafts and sedation. Many people love this solution and it has a clear cost advantage. Maintenance cost will add up over the years with this solution. Full mouth snap-on costs 35K on the average for the entire mouth.
Snap On Denture Before and After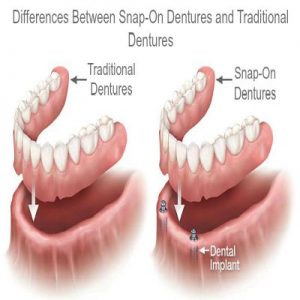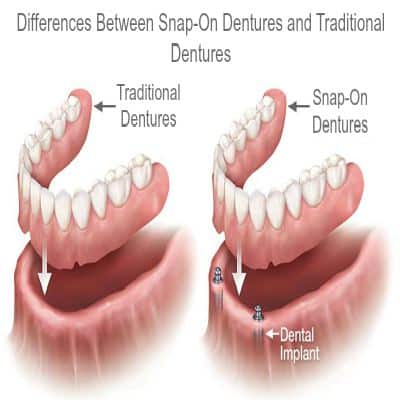 This particular cases involves upgrading from a traditional denture to a snap on denture. They had the rotten teeth taken out years ago and got tired of the conventional dentures and denture glues.
Why are full implants so expensive?
Getting implants for the entire mouth is very expensive. Do the teeth really cost that much? Or are dentists just taking advantage. Full implants are expensive due to the high costs of implant products and the need for expensive 3D equipment and instruments. Hopefully we will help you better understand the marketplace and the costs of different implant teeth. And where you will find value at our implant center. The biggest advantage to using our services over Clear Choice is one doctor will handle your case from beginning to end. At Clear Choice (and most other centers) there will be one doctor who will place the implants and another doctor who will design and fit the teeth on top.
Different Types of Full Mouth Implant Teeth:
All on 4 Full Implant Bridges – permanent set of teeth that are not removable
Snap on Implant Dentures – implant teeth that you can remove
Full Arch Dental Implant Options Video:
More Dental Implant Videos by Dr. Adams
Full Implant Teeth are either Permanent or Removable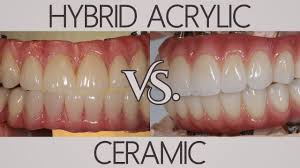 Generally, implant teeth solutions are removable (you can take them out like dentures) or stay in the mouth permanently. Some teeth that connect to implants are high quality, smooth, natural feeling zirconia. On the other hand, other teeth are acrylic and feel like plastic. As you might guess, the better teeth that stay in your mouth are more expensive. But it is not that simple. Make sure you fully understand what implants and teeth you are getting. Unlike a car, you cannot take implants for a test drive before you buy them. Do your due diligence.
All the focus is usually on the teeth, but do not forget about the implants. The implants are like new roots installed into the jaw bone. They are the foundation of the tooth structure and very important.  Implants are usually made of titanium, but there are metal-free zirconia options. It is very important to select a non-generic implant manufactured by a financially stable manufacturing company. Companies go bankrupt or they can be sold. If the manufacturer goes off the grid, you may not be able to get implant parts for repairs and maintenance. If needed parts cannot be purchased,  the implant is useless and will need to be removed and replaced.
One of the most common reasons for tooth loss is periodontal disease. If you have gum disease implants are possible. In many cases, it is better to get implants before gum disease causes irreversible bone loss.
What is All on 4 Dental Implants?

custom made full upper or lower set of zirconia (or Acrylic) teeth that are permanently implanted into the mouth. The one-piece full bridge is supported by 4 – 6 implants. Be sure to get zirconia teeth. They look better, last longer, but cost more.
Snap on Dentures

Removable implant supported dentures that snap into the mouth. Sometimes called locator over dentures. Very stable but are removable and can be easily un-snapped by the patient. The teeth are acrylic not porcelain or zirconia. Snap on dentures are the most affordable and practical way to replace all your teeth with implants. The teeth feel like plastic, but they chew well, look great and cost far less than other full implants teeth.
Individual Implants for All Teeth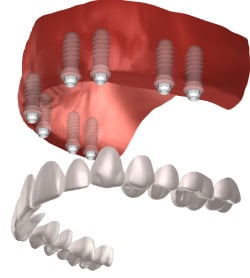 What is the best option? There are pros and cons to each full mouth implant option. We discuss options to replace all teeth. Read carefully because there are many more things to consider. Which implant alternative is best comes down to a personal decision once you understand all your options. The decision will come down to how much money you are willing to spend and your expectation of the end result.
All on 4 Implants vs Snap On Denture Costs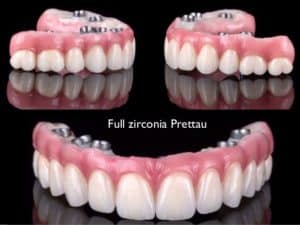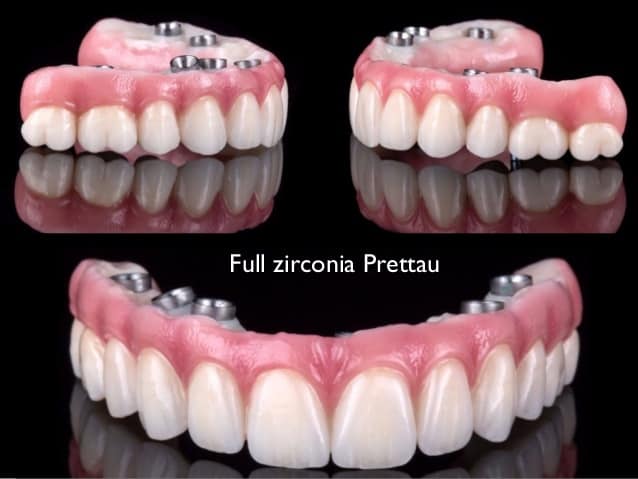 All on 4 is usually a preferred option to snap on dentures because all on 4 teeth made of zirconia (not acrylic) feels more natural. Additionally teeth that stay fixed in the mouth are more acceptable. Many people will opt for snap on implant dentures because they cost less and are more affordable.
Replace All Missing Teeth with Individual Implants
All on four can replace a full upper or lower arch of teeth with 4-6 implants. The implants are used to support a one-piece implant bridge. The All on 4 bridge is far less expensive than a complete set of individually implanted teeth. All on four is more popular than snap on teeth because it is not removable. The All on 4 is larger and bulkier than natural teeth but is still a lot thinner and more comfortable than a denture that snaps on and off implant locator attachments. The All on 4 bridge can replace teeth and gum tissue and does not require as much bone grafting as a full mouth individual implants. Because all All on 4 only needs four implants, less implant surgery and bone grafting is needed than replacing all teeth with implants and individual crowns. All on four cases are still expensive because all teeth need to be removed and several dental implants need to be placed.
What is the Best Full Mouth Implant Option?
What Full Implant Option is the Most Popular? For most people who want fixed implant teeth that stay in the mouth permanently, the biggest decision is a full mouth of individual implants or All on 4 implants. Most people will choose All on 4 due to the very high costs of individual implants. All on 4 typically takes less time because it involves less implant and bone grafting surgery than replacing all lost teeth with individual implants. Most people will turn down the implant denture case because they do not want teeth that come in and out of their mouth. Many people will complain about acrylic denture teeth because they feel thick, bulky and fake like plastic.
Acrylic Plastic vs Zirconia All on 4 Teeth:

A hybrid denture is an acrylic denture made of plastic that is permanently connected to a group of 4 or more implants. Called a hybrid denture because they are literally dentures that have been altered to connect to implants instead of being fitted to the gums. Many implant centers still offer hybrid dentures because they cost less and are easier to do than newer all zirconia teeth. Nothing wrong with them if you know what your are getting. Hybrid dentures feel like plastic and are not as durable as zirconia implant teeth. Zirconia one implant teeth look beautiful, feel natural, have a thinner profile and are far more durable. But zirconia teeth are more expensive than acrylic hybrid dentures.
Consider Upgrading to Zirconia Teeth
Be sure you know what kind of All on four bridge you are getting. Zirconia bridges also called "Prettau" and "Bruxzir" are made by high quality expensive labs. The machines that make the zirconia bridges cost millions of dollars and implant centers with in-house labs do not make zirconia Prettau or Bruxzir teeth in the office (including Clear Choice). If you did not ask, assume you are getting plastic teeth because the zirconia ones are a lot more expensive. Clear Choice sells the plastic full implant teeth and the zirconia teeth are an upgrade.
Clear Choice Dental Implants Cost vs MHD?
Most implant centers such as our office and Clear Choice will charge one flat fee to remove all the teeth (top and bottom) and replace them with full implant options. The fee for All on 4 permanent implants for the entire mouth is between $35,000 and $55,000. Snap on implant dentures are much less expensive at 25K – 35K for the entire mouth.  An entire set of individual implants and crowns for the entire mouth is $65K – $75K. The fees for the cases includes:
sedation and anesthesia
removing any remaining teeth
same-day temporary teeth to be inserted the day of surgery
bone and gum graft surgery
implant surgery
final set of teeth
Full Individual Implants and Crowns Option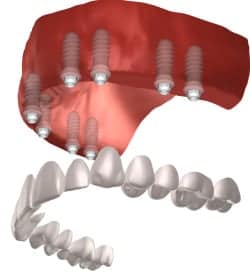 Thin, comfortable, made of beautiful zirconia and porcelain crowns. Feels like natural teeth. The hygiene is even like natural teeth with normal brushing and flossing. This option requires plenty of high quality bone and gum tissue. This implant alternative is usually reserved for people who have teeth or have recently lost teeth. Platelet rich fibrin or PRF dental bone grafting techniques have made managing bone loss much more predictable.  But more implants requires more bone.
Replacing all your teeth with individual implants is very expensive. Implants for all the teeth obviously requires a lot of implants. 20-25 to be exact. Often a lot more bone and gum grafting is needed. That is why this solution cost more than All on 4 implants and snap in implant dentures. Needless to say, one of the biggest downsides to this solution is the very high cost. Solutions like this usually last a lifetime.
Snap-on Dentures are the least expensive full mouth implants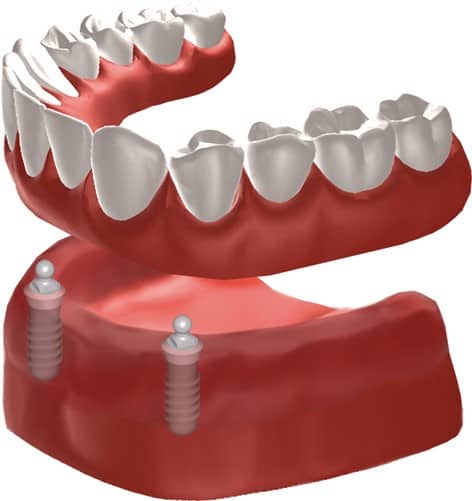 Snap on dentures is the least expensive option to replace a full mouth of teeth with implants. Basically implants are used to secure a removable implant denture. Typically 4 implants are used to retain the denture by way of locator attachments. This allow the dentures to be "snapped-onto" the 4 implants. Often, only 2 implants is needed to secure a lower denture.
Should You Replace All your teeth with Implants?
How much do you value your natural teeth. Can they be saved? How much does saving the teeth cost? How long are natural teeth repairs going to last? Cost? Compare alternatives to replace all teeth with full implant alternatives. Some teeth might be saved and some replaced with teeth implants. For example, maybe your front 6 teeth can be replaced with an implant bridge and your back teeth repaired with fillings and crowns. The costs of saving and replacing teeth with implants must be considered.
Longevity and Future Implant Maintenance Costs
Also consider how long each solution will last. And maintenance fees over time too. Clearly some full implant options perform and look differently too. Most often, your result is nicer when all you get a new full set of replacement teeth. Replacing all your teeth with implants wipes the slate clean and the implant specialist creates a new beautiful smile. But only you can decide what implant option is best. Make sure you understand the differences in the various permanent implant alternatives.
You Cannot "Test Drive" a new set of Implants
Remember, you cannot try it before you buy it. Once all your teeth are gone, they cannot be put back. And once you have selected an implant solution and made the implant teeth, you have paid for them. Educate yourself and set a reasonable expectation prior to embarking on getting a new set of permanent implant teeth.
All on four implants is the most popular full mouth implant option because the teeth stay permanently in the mouth and they are not as expensive as a replacing all your teeth with individual implants. All on four is not as expensive as replacing all your teeth with individual implants.
Snap-In Dentures have Maintenance Costs
For those who do not mind removable teeth, Snap-in dentures with implants are very affordable and stable. Implant dentures have the highest maintenance costs since the material can break and it inherently absorbs stains and smells over time. Zirconia from Prettau or Bruxzir on top of all on 4 is more durable than acrylic plastic and does not stain or wear too much.
Traditional Dentures Without Implants
If you still haven't made up your mind and you really need to get those painful rotten teeth out? You can always remove your teeth and get regular dentures. Compared to snap on dentures, conventional dentures are quite a down grade. The biggest complaint with dentures is they are not stable and fall out of the mouth during talking and eating. Most people prefer implants to secure dentures or permanent bridges. Many people will suffer through dentures because of the expense of implants.
If you ever want to get implants, do not wait too long. People will lose bone after removing all teeth. And later, it can be impossible to get implants without bone to put them into. Sometimes delaying treatment till later can lead to more expensive bone grafting and an end result that is not as good.