Implants Worth the Price or Should I Get Dentures
Millions of people suffer from tooth loss. Dentures are by far less expensive than implants, however there are many areas in which dentures fall short as compared to implants. For starters, complaints about dentures are usually about stability. Denture wearers complain that their teeth fall out when they talk, eat and sometimes even when they walk. Regardless, chewing efficiency is reduced by at least 60 percent with dentures vs implants. Lower dentures are especially unstable do to tongue movement and less room for the denture to attach to the gums.
Dental implants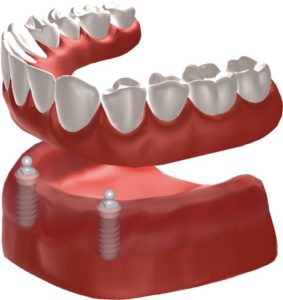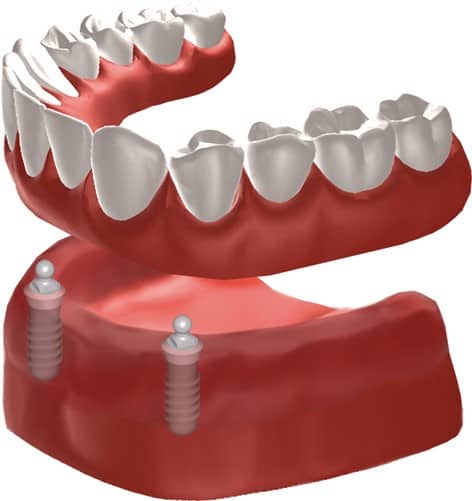 are a cosmetic, functional and effective solution for tooth loss. There are many great benefits to choosing dental implants. Implant teeth can:
Restore your smile
Improve your oral health
Improve your speech
Improve comfort
Improve function
Protect healthy bone structure
Provide a long-term tooth replacement solution
Implants when combined with dentures can make a poor set of teeth work quite well. Attachments called locator attachments can be placed on top of the implants. The Locator abutments act like male snaps and usually placed on top of the implants. Inside the denture, attachments, the female side of the snap, facilitate a snappy connection between denture teeth and implants. Hence the term implant dentures or dentures with implants.
There are several factors that our implant dental specialists will consider before recommending dental implants. Some of these include:
Adequate bone support to anchor the implant
Healthy gum tissue
Sinus and nerve location
Overall health, including any chronic illnesses
Implant options include:
In some cases, our specialists may recommend bone grafts for your upper or lower jaw. Your individual plan is based on your unique needs and goals for a healthy smile.
To schedule a consultation to see if dental implants are right for you, contact our office today.
Dentures are still an option if Implants are too expensive
Dentures are a removable replacement for one or more missing teeth. They are used to restore both function and aesthetics. Dentures are custom-fabricated to fit your mouth and match the appearance of your natural teeth. The fit of your dentures may be adjusted as needed to ensure comfort and proper function.
Complete dentures replace the full upper or lower set of teeth. Partial dentures are used to replace one or more teeth when some natural teeth remain. This prevents teeth from shifting into the space left by missing teeth.
Let Maryland Holistic Dentist help restore your smile. Contact our office to schedule your consultation.